MAKEUP. HAIR. FULL-TIME BEAUTY LOVER.
CLIENT TESTIMONIALS

LORI
Mel was absolutely fabulous! I, thankfully, found Mel quite last minute when looking for a makeup artist for my own engagement photos earlier this year. I am useless at styling my own hair and so I knew when planning for these photos that I wanted the help of a professional. I booked Mel for both hair and make-up and the results were exactly what I had hoped for. Not only is she incredible at her job, but she is just so warm and friendly - we could have chatted for hours! I loved Mel and her work so much that I have since recommended her to several friends and clients of mine, some of which I know booked her right away, and all have been as equally happy as I was! Mel - you are the absolute dreamiest makeup/hairstylist I know and I couldn't recommend you more highly! Thank you

Jenny Palmer, Director for Brides Do Good

It was a joy to work with Melinda on two beautiful shoots. Her personal style is a breath of fresh air both in her approach to sustainability and her creative vision. She brings a truly modern and authentic style, and on top of that she took great care of our dresses! We'd work with her again in a heartbeat.
Jackie

Melinda Bridal did all of the make up for our recent wedding. She did an incredible job on me and the bridesmaids and even managed to please my Mom. All of us looked our best. Her style of naturally enhancing what you already have made us look natural but flawless. She was punctual and fun on the day whilst always being professional. I wouldn't hesitate to recommend Mel to anyone who wanted a spruce up for an event big or small.
Thank you for being a part of our day
Louise
Mel was fantastic from start to finish. She took the time to really understand the look that I wanted for my big day, and was completely happy to try out a few options to make sure that I was 100% happy. She went out of her way to make me feel really comfortable and relaxed on the morning of the day when I was feeling very anxious. She also agreed to do lashes for my bridesmaids at very short notice. She uses the best quality products and I was so chuffed that my hair and makeup managed to stay in place and looking fab all day long! Would highly recommend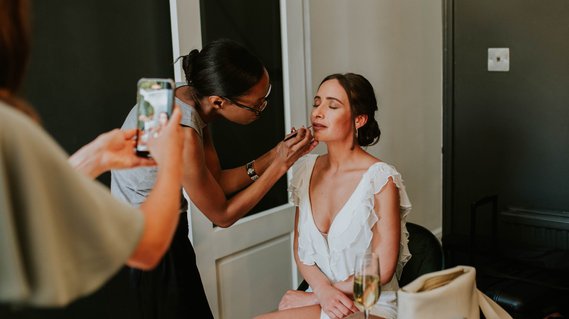 SOPHIE

Mel was incredibly helpful and supportive both during my trial and on my wedding day itself. During the trial, she was generous with her time to ensure we settled on the right style for both my hair and make-up. On the wedding day itself, she was early and understanding about queries and uncertainties during a very busy morning. At the end, I couldn't have been happier with the outcome and spent the whole day feeling confident - which enabled me to focus on enjoying the day and taking in every moment. I would definitely recommend Mel to any family member, friend or anyone looking for someone professional to help on their wedding day.
Sian
Mel and Kelly styled my hair and did my make up for my wedding and I cannot recommend them highly enough! From the start, they were both highly engaged, communicative and professional; they both listened to my brief and were happy to discuss ideas and inspiration. I particularly liked how many different ideas and styles Mel suggested for make up and how inspired they both are by fashion. They also did my mum's hair and make up and made the morning getting ready so much fun. Thank you Kelly and Mel!