FREQUENTLY ASKED
QUESTIONS


What are the steps to booking with you?
First, get in touch using the contact form below to learn more about packages, pricing and availability. I will get back to you.


How soon can I book you for my wedding?

Whether you're a bride planning things two years in advance, or someone pulling things together a bit late in the day we can book you in as early or as late as you like.
Of course, the further in advance you book, the more availability we will have.


Can I have an inital trial before booking to see if you are the right artist for me?

Yes of course! I can offer a trial before securing your wedding date. You can book here. I'd recommend booking the first trial as soon as possible, just so that your wedding date doesn't get booked up.
Where possible, I will place a hold on your wedding day, but will not be able to secure it until the deposit and wedding contract have been returned.


Are you available for destination weddings?
Absolutely! Travel expenses and accommodation will need to be provided within your budget. Get in touch for a bespoke quotation.

What areas of the U.K do you cover?

I'm based in Kent and my team is based in London, Hertfordshire, and Sussex, so we cover the South East at the moment. We've done a lot of weddings in Kent and London in particular.
If you've got your heart set on working with Melinda Bridal but are a bit further afield there is absolutely no harm in asking, we will see what we can do, it might just mean we have to charge for some additional travel and perhaps hotel arrangements.
When should I book my bridal preview?

I don't want the first time we meet face to face to be on your wedding day, which is why I think a trial is so important. I recommend we book you in for a trial 4-12 weeks before your wedding day. You'll also likely have more of an idea of what you're looking for in terms of look and style once the venue, cake, and decorations, and of course the dress, have been arranged.

How long is the bridal preview?

The trial is 2 hours and is an amazing opportunity for us to meet and practice your hair and makeup.
Ahead of the trial, we will have some back and forth around what your vision is for the day and I'll provide you with a mood board for you to feedback on. This way, when we go into the trial we should both have a really good idea of your desired outcome.
If there are any accessories you plan to use on the day, we will take the chance to try this all on so we can make sure that everything fits together perfectly.
I have no idea where to start, can you help me?

Yes! Some brides have a really clear idea of what they want, and others don't. Both are fine! When we first start chatting by email, I'll ask you to complete a short questionnaire about yourself and what types of looks you like. I'll use this to build a basis of ideas for you and share some pictures with you. Sometimes when you're faced with things you'll start to gather what you like and dislike and we can go from there!
I tend to work with brides who are looking for a fresh-faced and natural look who just want to look like an elevated version of themselves on their day.
Do you do hair styling?

Yes, when booked with a makeup service.
For smaller weddings that require simple bridal hair, I will do these myself. For more complex updos, I have a select group of talented hairstylists who will have your hair looking nothing short of perfect.
All the hairstylists I work with have experience in the high end and luxury fashion industry, and I have worked with them for a number of years.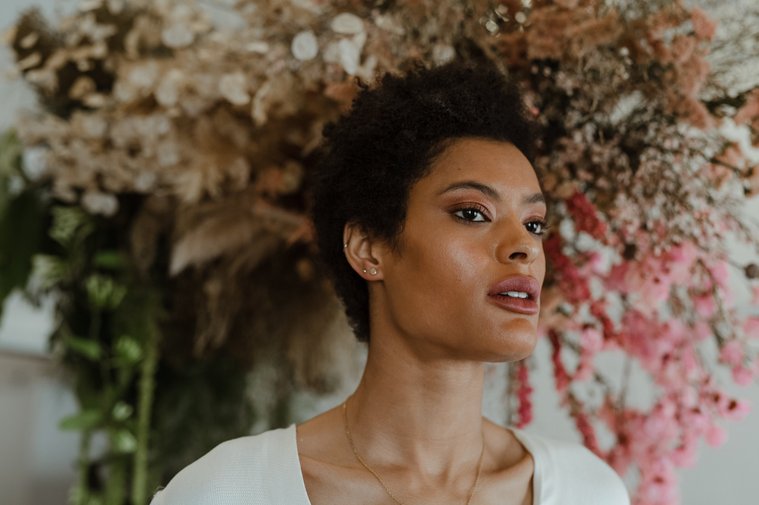 How long will my makeup take on my wedding day?

We suggest 90 minutes for bridal makeup and 45-60 minutes for bridal parties.
Additional elements such as hair and custom lashes can add some time to your booking. When we are discussing your wedding and the requirements I'll give you a total time and timings for each person so that you know exactly what will be happening on the day.
I have a large bridal party, will that take a long time?

Rather than make it a long day for everyone, and getting some of your bridal party up in the early hours, I'll simply bring a larger team of makeup artists so that the day runs like clockwork.

Do you offer cruelty free and vegan makeup?

Yes, of course! I want to cater for what you prefer so please just let me know any preferences ahead of your trial so that I can ensure I have everything needed in my kit.
As part of the early process of getting to know you and your vision for your wedding day, I send out a short questionnaire where it would be great if you could let me know if you have any special requests.
It's also important to know if you have any allergies or skin intolerances so that I can accommodate these.
LOVE LETTERS Sign up with your email address to receive news and updates.